About us

Femas's story
FEMAS SRL was founded in 1977 by two young engineers who decided to devote their experience and technical skills to a new manufacturing company of molds & high-precision tools
Their constant enthusiasm, their rising experience and the maximum care to the top automotive equipment manufacturers, led FEMAS Company to the highest know-how on the production of accessories for tyre changers, wheel-balancers and wheel-aligners provided to the best European, American and Asian shops.
The company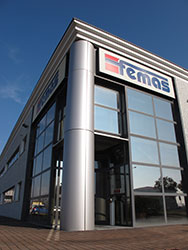 Particularly, FEMAS attention to the products' R&D and quality control tightened a fruitful cooperation with all worldwide customers and top OEM manufacturers during more than 30 years activity.
Nowadays, the brand-new 6000 m2 building in Correggio hosts a leading production plant managed by a cohesive team of skilled engineers and of operators who aim their everyday actions to the maximum customer's satisfaction and the best technological development of production.
FEMAS means quality, precision and reliability.